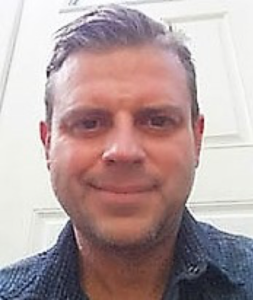 David Roby, an award-winning theatre artist will serve as playwright-in-residence for New Voices for the Theater, a playwriting competition and workshop open to high school students in the Commonwealth.
David Roby has worked an arts administrator, playwright , actor, director and a theatre educator for over twenty five years.
Roby has a BFA from the University of North Carolina School of the Artsand an MFA from Illinois State University.He is also a member of both Actors' Equity and the Dramatists' Guild of America.
Roby has spent much of his professional life championing the voices of today's young playwrights.  For the last ten years he has overseen the playwriting component of the The Sewanee Young Writers' Conference as the Tennessee Williams Scholar in Playwriting.  In addition, he has spent the past several years as the Tennessee Williams Playwright in Residence at  Sewanee: The University of the South. He has also served as the Playwright in Residence at EndstationTheatre Company.
Roby is the author of sometimes there's God so quickly, Mercy Me, I Invented the Sandwich, Arts and Sciences and Unseen Character.Founder of The One Man Traveling Tennessee Williams Festival. He is the founder of The One Man Traveling Tennessee Williams Festival.His work has been commissioned, produced, and developed at Make it Happen Theatre Company, Workman Publishing, Working Title Pictures, The University of the South, Illinois State University and the North Carolina School of the Arts.
He is the recipient of the Jean Kennedy Smith Playwriting Award presented by VSA Arts and John F. Kennedy Center, and a finalist for the David Mark Cohen Playwriting Award.
Having just recently moved to Richmond, Virginia, Roby is thrilled to continue working with an organization focused on positively influencing young artists and helping them cultivate their artistic sensibilities.
As playwright-in-residence for New Voices, Roby will guide eight high school students from all over the state of Virginia in a workshop-residency at SPARC. There he will teach them about the art of playwriting and guide them through the revision process of their original one-act plays each of them submitted. Roby himself selected the eight winners out of hundred plus submissions based on the merits of their respective plays.
At the end of the workshop, all eight student-written plays will be staged in a series of public performances: the Festival of New Works, which is free and open to the public. It will take place on July 12thand 13th  at 7:00pm at Grace Street Theatre 934 W Grace Street Richmond, Virginia 23220
CLICK HERE to learn more about the New Voices for the Theater program.