This week we'd like to introduce you to Drew Seigla, and SPARC alum and graduate of Juilliard. Drew works in both musical theatre and opera. He currently works with "ARE Opera," a NY based company that seeks to make opera accessible to everyone. In 2016, he joined the Off-Broadway production of The Fantasticks.
How did you get involved with SPARC?  What shows did you work on?
I first heard about SPARC through a middle school drama friend and classmate Nicole Stumpf-Bateson.  We were both in Short Pump Middle school's "Alice in Wonderland" and she suggested to my parents after our opening show about joining SPARC.  She mentioned to them that it would be an ideal place to continue my love for theatre while continuing to hone the craft outside of school with their several class options.
So, my parents enrolled me into their spring core class where I worked on Music Theatre "triple threat" training.  I had a communal voice class with Stephen Rudlin, drama studies with Debra Clinton, as well as dance classes.  Our "final project" was a performance in each discipline at The Cultural Arts Center at Glen Allen, and to this day I can recall just how excited and nervous I was to perform in front of so many talented kids across the Tri-City area!  I will say the core class really set me up for success because it focused each discipline separately so that I could improve in each one slowly and respectively.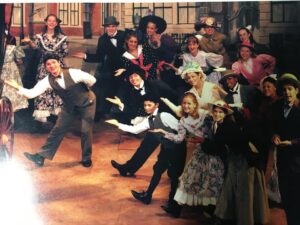 After this important step of training I went on to perform in SPARC's Once Upon a Mattress, as a member of the ensemble and a small cameo role of Sir Studley.  The experience was truly special because we performed at the infamous Empire Theatre, now the "November Theatre" where VA Rep performs their main works.  It's hard to describe how magical it truly was to be in that theatre at age 14.  The majesty of the historic theatre on stage and backstage, the enormous, grand set pieces, the extravagant costumes, and the amount of work and love the SPARC staff and parents put into this one show was astonishing, I was hooked!  I continued to do SPARC's summer shows at The Empire Theatre for the following two years with Hello Dolly! playing the head waiter, Rudolph, as well as Footloose! performing the country bumpkin, Willard.
Tell us a bit about your career. Has growing up in the performing arts impacted your day to day life?
After SPARC, I went on to study Music Theatre at Elon University in North Carolina.  The program was filled with incredibly talented individuals and faculty.  I quickly grew and improved from the program, continuing my study of all three disciplines of acting, dance, and voice with extreme diligence.  Luckily, a special voice teacher to me, Dr. Kenneth Lee changed my life my sophomore year and embraced my love for classical music as well.  We both worked very hard to receive an audition for The Juilliard School, and after auditioning in NYC I received a call to be among eleven students chosen for their '07 fall semester in Vocal Arts at The Juilliard School.  It was a monumental experience to say the least, and after graduating with my Bachelors of Music in 2011 I landed a young artist program with Lyric Opera Virginia in VA Beach.  Here I met talented young opera singers from across the country, and got a chance to work with Broadway veterans on our production of King and I.  I was content to be part of a company that put on both opera and musical theatre with great professionalism.  Once their season was completed, I decided to stay in Richmond and work for VA Repertory theatre in order to finish up my EMC (Equity Membership Candidate) point program as to earn my Equity Card…a must in my opinion before moving to NYC to pursue acting.
Two and half years passed since graduating from Juilliard and I knew that with my newly acquired Equity Card that I needed to move back to NYC to pursue a career.  So, I began subletting my friend's apartment from school in January of 2014 with nothing really but a dream and a drive to achieve it.  Unfortunately, over a year passed and I still hadn't booked any theatre job.  After nearly 50 disappointing auditions, I thankfully and gratefully got the call to join the Off-Broadway cast of The Fantasticks in NYC.  It was my first real break, and things in my "career" changed quickly and for the better.  I stayed with the show for a full two years right up to moment they announced the closing of the longest running show in the world.
Currently, I am working on a production of the opera Gianni Schicchi by Giacomo Puccini with a new startup company AREOpera.  I'm very excited to be singing in the opera arena after two years of a musical theatre lifestyle.  I'm also the tenor section leader and soloist of The First Congregational Church of Greenwich in Old Greenwich, CT.  Here I can consistently work on my vocal technique in a safe and supportive environment.  I also get many opportunities to sing solos for classic oratorio works which I really enjoy.  I'm also going to approximately 2 auditions per week, all the while hoping for the next big break just around the corner (fingers crossed).
Finally, growing up in the performing arts has helped me be a team player, and has also nurtured a positive outlook on life.  Putting on a show is no small feat, and you have to be not only responsible for your part, but also be super aware of everyone else in the process.  Your personal responsibility effects everyone, and bringing your best positive self to each rehearsal or show is basically what we should do in life for any and all situations.  Plus, performing in a show invites community which is essential for developing acceptance and empathy for others, no matter how different they may seem to be from you.  I've met some of the most diverse individuals in the performing arts, and it has opened my mind and heart from any prejudices.  Love is love is love.
How many years were you involved with SPARC?
I started SPARC in the spring of 2001 and continued until 2005.  My last musical was Footloose! in the Summer of '04, however I continued to take advanced studio acting with Ted Boelt up to Spring of '05 when I graduated high school.  This class met on Saturday mornings and was crucial in the honest study of theatre.  We worked on scene studies, monologues, voice and speech, alignment, diaphragmatic projection, and improv.  These classes always challenged me and intensely focused the specifics and subtleties of truth in acting.  Without them I'm not sure I would have had the same advantage when auditioning for college programs.
Can you tell us about this picture?  Was it from a show you were working on?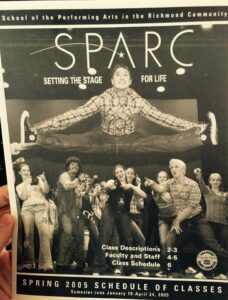 This picture is from my third musical with SPARC, Footloose!  The specific moment is the end of the number "Let's hear it for the Boy."  Pam Turner choreographed it so that the entire town of Bomont knew how to dance, well, everyone except me!  So, the Russian split jump was capturing the pinnacle moment of me learning how to dance.  It was such a fun number, and I couldn't wait to hit that jump every time in rehearsal and in the show!
Do you have a funny/favorite story about your time at SPARC?
There are so many it's really hard to pick a favorite…let's see.  There was one particular moment that stands out.  Not to throw anyone under the bus, but this memory is just too good!  It was in the first show I did with SPARC, Once Upon a Mattress.  My very good friend, and J.R. Tucker High school choir classmate, Chase Peak, played the role of Prince Dauntless.  He's super talented to this day, and was pretty spectacular as Prince Dauntless with his rich baritone and unique comedic personality.  Well, in the final number in Act 1 "FRED," Chase got tongue tied in a manner that to this day makes me and hopefully him laugh out loud, too!  The character has many patter verses that aren't easy to remember…so!  The actual verse is: "I'm in love with a girl named Fred, she's musical to boot, she will set your feet a tapping when she plays upon her lute…" Chase said, "I'm in love with a girl named Fred, she's musical to boot, when you… you'll stand right up and POOT!" It made the entire ensemble burst out laughing and this happened in a live performance. Whenever I've seen him and this memory pops up we both crack out loud!  Too good to be true.
Any suggestions/advice for the readers and their children that you can share on pursuing dreams?
First off, I think it's important to identify what your dreams are.  Not your parents, not your teachers, but your own.  Yes, having mentors is absolutely key, and sometimes you need those people to push you in a certain direction that at first may seem difficult, but could eventually prove to be your greater calling.  I guess, just make sure you dig deep within and listen to what makes you happiest.  Secondly, you have to work very hard.  There really isn't any to success by resting on your laurels.  Sure, you need to have talent to pursue a career in performing arts, but it won't happen by your ability alone.  Thirdly, never give up!  No matter what the "real world" might tell you.  You must "ignore the nay sayers" as Arnold Schwarzenegger says.  You have to surround yourself with positive influences and block out all the negative talk from these people. Usually the people who speak negatively about you aren't looking to build up, but to tear you down.  At any moment you feel that from someone, and unfortunately it could even be from a "friend," don't ignore it.
You have to believe in yourself and negative people in your life will drain your energy and effect your happiness.  Never let someone have this power over you!  Believe and trust in yourself, only you can get in the way of yourself.  Lastly, remember that your dreams are not bigger than the world itself.  Always find room to be kind to people, always find room to be empathetic to all people, always see the big picture in life and try not to get bogged down in whatever your "career" persists of you.  I was told once that might have many "jobs," but you only have one life.  Lastly, be awesome!  No one else in the world is quite like you!  You have a first name and a last name.  Indulge in what makes you stand out, for no else can be you, and everyone else is already taken.  Embrace your talent fully, and don't hold back!  Share it with the world with your full intensity while relentlessly keeping your eye on the ball.  Success will follow.  My dad told me this and it works: "We can't affect the outcome, only the effort."  Take the small steps every day towards your goal, and eventually you will have a grand staircase to your destination.