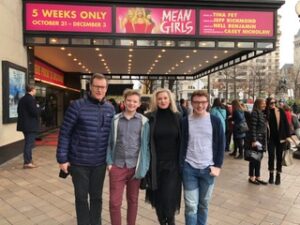 Bob Battle and Ellen Palen have two sons who have experienced about every program that SPARC has to offer. Conor, a high school senior, and Emmett, an 8th grader, have been in many plays, classes, touring ensemble, Live Art, the Jason Mraz "Have It All" video, and even a summer internship.
This Fall, Conor will be in the SPARC production of Peter and the Starcatcher, while Emmett will appear in Little Women the Broadway Musical. Ellen, a family doctor, calls SPARC a "home" to her boys. "I always told the boys to 'Fly your freak flag,' meaning to just be yourself and do what you enjoy without worrying what others might think. Conor is gay and  intends to major in Theater in college while Emmett is a quirky, artistic soul and they have found a loving, supportive, and creative community at SPARC."
Bob Battle, a local lawyer who specializes in defending serious traffic cases, has also moonlighted for over 30 years as a professional comedian. He has opened for such legends as Chris Rock, Martin Lawrence, Norm Macdonald, Darrell Hammond and Donny Osmond.  Dave Chappelle and Wanda Sykes have opened for Bob earlier in their careers. In addition to echoing his wife's praise for SPARC, Bob also points out that the level of training that these students receive at SPARC is amazing in all areas – acting, dancing and singing. "…From top to bottom, the training is top-notch and professional."
Bob and Ellen consider themselves lifetime supporters of SPARC. "We will continue to support these great programs long after our children have finished high school. SPARC is an amazing asset that brings a tremendous amount of much needed creativity and positivity to the youth of the Richmond community. It allows these kids and young adults, regardless of their financial means, to have the opportunity to express themselves and grow artistically at a crucial time in their lives," said Ellen.
Thanks to Bob and Ellen for sharing their SPARC story and for their years of support of our programs!
If you'd like to share your SPARC story, email mystory@sparcrichmond.org.