INTRODUCING MAURA SINNENBERG
We are excited to welcome Maura Sinnenberg as the next Program Manager of LIVE ART. Maura succeeds Courtney Vollmer as the administrative and communications hub behind the execution of this vital program.
Maura comes to the position with significant experience in managing nonprofit programs. Most recently, she has served as Volunteer Manager and Community Outreach Coordinator for Reestablish Richmond, a local nonprofit that works alongside refugees as they work to establish roots, build community, and gain self-sufficiency. In this role, Maura has supervised over 385 active volunteers and supported the needs of almost 1,000 refugees seeking to make Richmond their new home.
Maura previously worked as Director of Inclusivity and as an English and Theology Instructor for Christchurch School, where among other responsibilities, she led efforts to provide staff professional development and student programming initiatives in inclusivity and social justice.
A SPARC alumna, Maura taught in LIVE ART's Music Makers class during the 2018-2019 program. Those attending the 2019 LIVE ART: FAMILY performance will remember MILCK's "Oh, Mother," in which Maura played the mother and collaborated in the creation of the piece.
Maura will began her full-time work as LIVE ART Program Manager on August 28. Please send welcome messages to msinnenberg@sparcrichmond.org.
INTRODUCING JEFF CAMP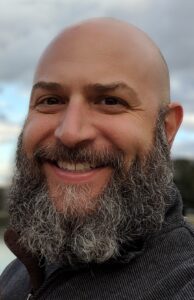 We are also excited to welcome Jeff Camp as SPARC's Production Manager. Jeff succeeds Ginnie Willard as the leader of SPARC's production department and technical theatre instructional programs.
Jeff comes to SPARC with over 25 years of experience in theatrical production. Mostly recently at Virginia Tech, where he serves as Production Services Coordinator, Jeff provides training programs for up to 80 student technicians in lighting, sound, and video equipment; ensures compliance with safety regulations; and oversees the execution of over 1,400 campus events per year. In previous positions with WaterTower Theatre, UNT, and AT&T Performing Arts Center in Texas; Meadowbrook Theatre and Waterworks Theatre in Michigan; and Birmingham Children's Theatre in Alabama, among others, Jeff served as Technical Director, Assistant Technical Director, and Master Carpenter, and has extensive scenic construction, rigging, and safety experience.
Jeff will work alongside Brendan Kennedy, Program Director for production programs, who will continue to oversee the educational and artistic teams leading SPARC's productions; Amy Almond, Production Coordinator, who supports all aspects of physical production for SPARC; and the many designers, technicians, educators, and artists to help SPARC students shine in productions.
Jeff will begin as SPARC's Production Manager on September 16.