Hello readers,
Happy holidays from SPARC! We hope you are enjoying the festivities of the season. As we close our last month of 2017, we have been bustling with year-end activities including wrapping up our fall classes, participating in Barnes and Noble's story time, adding professional development workshops, and introducing a rewarding master class for our dedicated students. In addition, we are proud to announce, a new member has joined our SPARC family.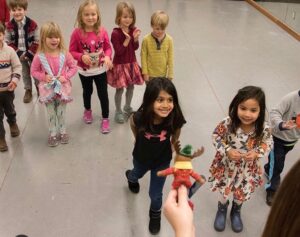 Our newest addition to the SPARC family is Fred the Moose, who boasts that his personality is quite aMOOSing. He entertains the SPARC staff regularly, and can be found probing the inner workings of our organization. When he is not in the building, Fred enjoys  traveling. He was recently spotted journeying throughout Virginia and plans to take the many tourist destinations of Richmond by storm. Fred, who appears to be an extrovert on the outside, is really rather shy and does not does not like exploring by himself. He often requests I accompany him on his many crusades, and of course, I gladly accept his invitations. When Fred is not on an exploration, he can be found guzzling lots of juice (apple is his favorite), sporting his tacky holiday sweater collection, snowboarding, and hiding in various SPARC offices. In addition, Fred likes to make unannounced visits to many SPARC classes. He was recently spotted in SPARC's Creative Drama class, and the students squealed with joy. During class, Fred read his favorite book, If You Give a Moose a Muffin, and discussed how he will never turn a muffin away, especially if it is blueberry flavored.  Below, please find pictures of his visit.  If you spot Fred around SPARC, or in the community, please share photos and use the hashtags: #FredTheMooseOnTheLoose and/or #YoureAMOOSing. You can view Fred's many adventures by visiting SPARC's Instagram page: @sparcrichmond.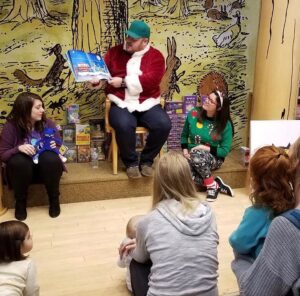 As our Instagram account revealed, this curious moose was recently spotted at Barnes and Noble's Storytime event! A few members of the SPARC staff accompanied Fred to Barnes and Noble. During this event, we read Pete the Cat Saves Christmas and Llama Llama Holiday Drama to the children and their families. We were elated to have Llama Llama and Pete the Cat stop by our session and read along with us! We've included some charming pictures from storytime below. We all enjoyed the event, and hope to return to Barnes and Noble soon to see the delightful children and read more of our favorite children's stories.
Now, for even more exciting news… SPARC has recently introduced a new series of professional development workshops for our teaching faculty. Our recent workshop was provided by members of the Department of the Blind and Vision Impaired. This, our first workshop of this professional development series, was incredibly informative. The presenters shared their experiences, knowledge, and advice, followed by a Q&A session. This workshop allowed us to better understand how to accommodate disabled students in the classroom. I will definitely incorporate their suggestions into my future classes and am grateful for this lecture.
Next, I am thrilled to announce, we partnered with ComedySportz Richmond,
www.cszrichmond.com, to offer an improv comedy master class for our eager students. During this master class, students learned the basics of improvisation and how this can help with many life-skills. The students were taught the the importance of always saying yes, along with the importance of both teamwork and storytelling. I particularly enjoyed when the instructor, Christine Walters, emphasized "the sense of ensemble" when performing improvisation. This was very important for these students to hear, because she emphasized the importance of working together as a team, rather than trying to outshine one another.
Well, that is a wrap for this edition of the SPARC blog. As you can see, we have been immersed in many fun-filled activities this past month. Wishing you a wonderful holiday season and a very happy New Year!
Until next time,
Laina